We have already installed 10 thousand cc TVs in Bangalore, Chennai. City police commissioner Bhaskararao said seven and a half thousand CC TVs will be installed under the Nirbhaya scheme.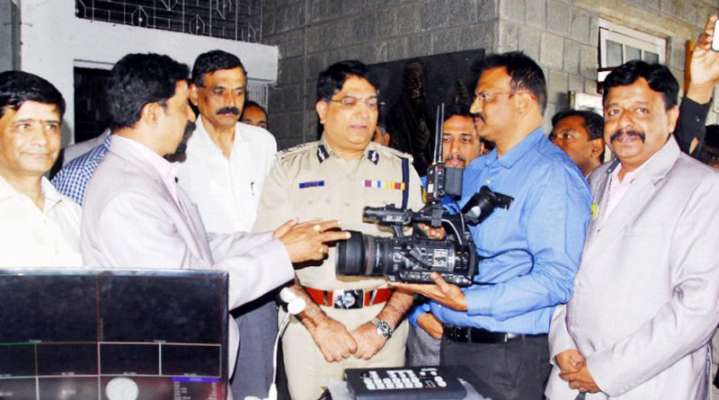 Speaking at the inauguration of the workshop organized by the Association of Photographers at Gandhi Bhavan in the city, he said that despite the objections that privacy is being undermined by CC TV, their role in terms of law and order protection is of utmost importance.
Photography is essential to the police department at every step and we are ready to buy modern equipment. But the State Photographers Association must cooperate to teach the necessary skills. Every station needs a talented photographer. More than four hundred photographers work in the police commissioner's office.
A good photo is likely to be a good source of evidence, rather than a hundreds-page report on criminal cases. The photography department has gained momentum. The police are required to organize a two-day workshop on the use of modern technology and machinery.
It requested that the photographers' association should cooperate. Photography has almost 130 years of history. It has a good future ahead. Some professions are diminishing as they grow older. But photography is still in demand.
While self-photography has increased with the arrival of smartphones, we still rely on professional photographers to capture memorable moments. Photography in various fields such as wildlife, industry, medicine and so on. A good skill is required for personal photography. That said, emotions need to be captured in the individual image.
Photography has evolved from Silver Nitrate Reel to HD Technology. The police department relies on the suggestions of traders for the purchase of any cameras, including CC TV. There are opportunities to make an authoritative recommendation on this.
We will be able to purchase camera and CCTVs if we advise the department to take advantage of this opportunity. Commissioner of Information and Public Relations Department Siddaramappa Paramesha, Secretary AM Murali, Treasurer RV Srikanth and others were present.